Crafted ceremony scripts and professional officiating services for weddings, elopements, vow renewals, commitment ceremonies, and more
Officiant Sherri creates couple-centered ceremonies that reflect you and your love. From curated weddings, classic affairs, and offbeat rituals, to intimate elopements, romantic microweddings, and more, I offer different ceremony options to fit your vision.
I'll create meaningful moments no matter which ceremony option you choose, because I love what I do. Authenticity and love are at the heart of the ceremonies that I write

and I deliver them with

warmth, professionalism, and care. Officiating your ceremony is more than just speaking words, it's about celebrating your love.
All Are Welcome!
North Carolina Marriage License Info. – Fast Facts
It

is the couple's responsibility to obtain their NC

Marriage License

before the wedding.

You can get your marriage license in any NC county, and then use it in any NC county. (The officiant will return it to the issuing county.)
The marriage license fee is $60. The license is good upon issuance (no waiting period) and is valid for 60 days.
Two witnesses must sign the marriage license, in front of the officiant.

To get you started, here's the link for the

New Hanover County Register of Deeds

. Or,

find your NC register of deeds by county.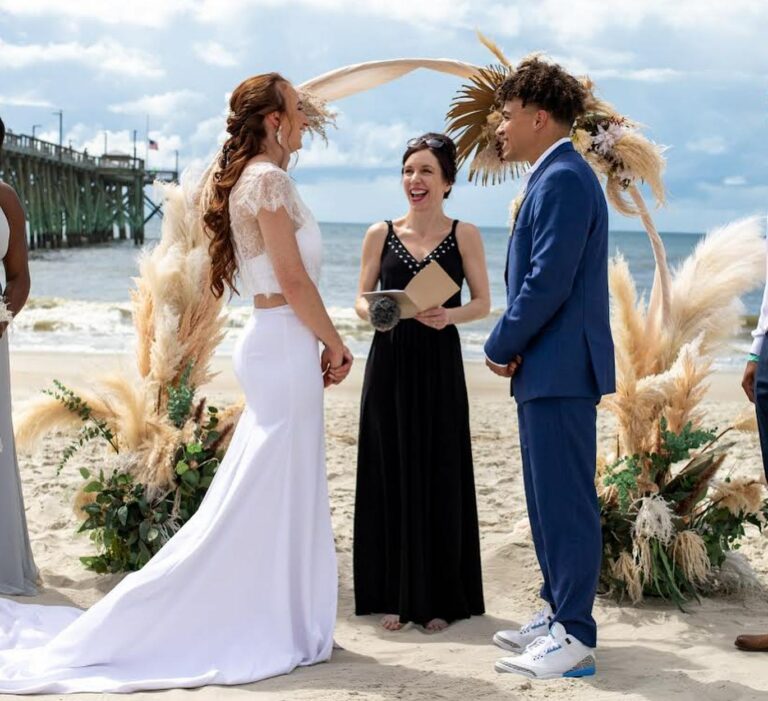 A couple & guest favorite! With my most popular wedding ceremony option, I create a custom ceremony that reflects you and your love. Elements of your relationship and love are woven into a curated wedding script that's professionally written and then performed on your wedding day. Ceremony script design, vows writing assistance, option to add a ritual of your choice, option to add up to two readings of your choice, plus collaboration as needed with fellow wedding vendors on your wedding day. Book a consultation and let's chat on bringing your love story to life!
 Wonderful for an intimate wedding, lavish affair, or anywhere in between. This ceremony option adds personalized aspects to the wedding ceremony script that I create for you. Based on information that I gather, I design a wedding ceremony in a style fitting of your relationship. Choose your vows, option to add a sand ceremony, and includes a reading. Book a discovery call for more information – it's a great way to see if we're a good fit for each other!
A short elopement style ceremony to intimately say, "I Do!" – with this option you are limited to up to five guests (including your marriage license witnesses). Perfect for the park, the beach, your hotel, or almost anywhere you choose in New Hanover County. Oak Island is also available, with a reasonable travel fee added. (Please note, this ceremony option is not available at formal venues.)
Sign & Celebrate (License Signings)
Cozier than the courthouse and quick! License signings, with a sweet touch, are available weekdays at Halyburton Park in Wilmington, NC. Guests are limited to only your two witnesses, and the rate is $150. Other Wilmington locations and Saturdays may be available, at an additional cost. Signing services are booked no more than three weeks in advance. (Please note, license signings are not wedding ceremonies. This service is not available at formal venues.)
Vow renewal ceremonies are a meaningful way to celebrate your marriage and renew your commitment. Renew your wedding vows, or have a "We Do, Part 2" with family and friends, with one of the ceremony options above.
Wedding rehearsals are available for an additional fee. Running through your ceremony highlights with your officiant present can give you peace of mind that everyone's prepared for you wedding day. For destination wedding couples, it's also a great opportunity for us to meet in-person – and connect – before your wedding day. 
Rehearsals may be booked at the time of your initial contract or added at a later time. Those booked at a later time are contingent on Officiant Sherri's wedding calendar. Rehearsals after 4pm on Fridays, and after 10 am on Saturday's may not be possible.
CHECK THIS OUT!
I was recently interviewed by American Marriage Ministries, for advice to novice officiants: All About Wedding Ceremony Rehearsals