As a professional wedding officiant and content writer few things are better than combining my love of both endeavors. The opportunity recently came about when I was tapped by the Wilmington and Beaches Convention & Visitors Bureau to write a featured piece about Micro Wedding planning, for its website.

This article first appeared on the Wilmington and Beaches Convention & Visitors Bureau website. View the original  blog post here: SAY "I DO" TO MICRO WEDDINGS IN WILMINGTON AND ITS ISLAND BEACHES .
Say "I Do" To Micro Weddings in Wilmington and Its Island Beaches

by: Sherri Crawford – When it comes to weddings – and other milestone celebrations in these unique times – small is the new big. Micro weddings offer a wonderful – and safer – way for engaged couples to still say "I do" amid Covid-19 restrictions. As a wedding celebrant I've officiated multiple micro weddings in Wilmington and our island beaches. For destination wedding couples they've become an alternative to postponing or cancelling grander wedding plans. What's more, micro weddings have morphed into an industry trend, one that began pre-pandemic. From florists to photographers, wedding vendors – and couples, alike – are embracing these smaller-scale wedding celebrations.  
What It Is
In a nutshell, micro weddings are an intimate way to tie the knot. There's no hard or fast rules but these tiny weddings involve having a limited number of guests. Think fewer than 20 of your nearest and dearest friends and family attending, but no more than 50 once gathering limits for events are relaxed. Micro weddings also provide more flexibility and affordability – plus, less stress – when it comes to wedding planning, because it's a downscaled affair. The ceremony is the main event, sans extra frills and distractions.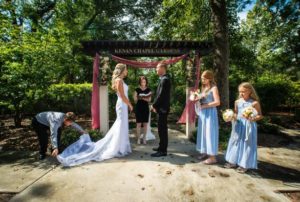 LOCATION, LOCATION, LOCATION
Speaking of the aforesaid flexibility, you can hold a micro wedding just about anywhere. (Try doing that with a 100-plus person guest list!) With fewer guests, trimmings, and the like, there's less to fit into a given area, so location options become nearly endless. Look to Wilmington's breweries or parks, or one of our island beaches' piers to start.
From a riverfront loft in historic downtown Wilmington to an oceanfront cottage in Carolina Beach, vacation rentals can be your wedding ceremony location, too. Fit for social distancing, head outside onto a deck or simply set up in the backyard, surrounded by palms or under an oak tree. Or, share your vows sans shoes, directly on the beach.
Thanks to Wilmington's and its Island Beaches' mostly moderate temperatures, beach and outdoor weddings are a year-round possibility. (It's one reason our beaches are a desirable wedding destination.)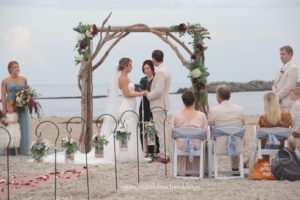 If spontaneity is calling, book an area hotel or resort for intimate nuptials. Couples have contacted me while en-route to their accommodations to set up a next-day ceremony. Grab a bottle of bubbly, cupcakes, and a bouquet, and have your best friends meet you on the Blockade Runner Beach Resort patio or charter a private cruise. Then, book a reservation for a celebratory dinner at a locally owned restaurant. Or for a meaningful ceremony that comprises a little more room for you and your guests, consider the Riverwalk at the Embassy Suites Wilmington Riverfront Hotel, the Hotel Ballast, or the Wilmington Convention Center. Other intimately-sized venues abound, like 128 South in Wilmington's downtown district, and Wrightsville Manor located near Wrightsville Beach. All have indoor and outdoor spaces, providing social distancing opportunities, along with a plan "B" in case of rain.
WHAT TO WEAR
When it comes to micro weddings there's really no dress code. From elegant wedding gowns and tailored suits to boho dresses and linen pants, anything goes. For your wedding attendants, the same "rule" applies to their attire, too.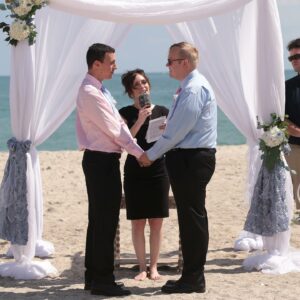 WHAT TO KNOW
To get a North Carolina marriage license, both partners must appear in person at any county Register of Deeds office in the state, within 60 days of the wedding. Couples can then marry in any county in the state, regardless of which county the marriage license was obtained. There is no waiting period once the marriage license is issued. 
Contact Officiant Sherri to start planning your micro wedding today.
© Sherri Crawford, 2021