Winter weddings may bring snow and freezing temperatures to mind, but that won't be so when the Wilmington area is your wedding destination. With mostly mild temperatures from November to early March beach weddings are wonderful year-round in Southeastern North Carolina. Whether you tie the knot at Carolina Beach, Wrightsville Beach, or Kure Beach – or at an outdoor spot in downtown Wilmington – there's a number of benefits to having a winter wedding.
Here's Officiant Sherri's 6 reasons why we love winter weddings…..plus, the off-season is still wedding season in Wilmington!
Less Crowds
Residents – and our beloved regular visitors – know a little secret around here: in the winter, you can have the beach all to yourself (most of the time!). Try finding that luxury during the peak summer and fall wedding seasons! Your ceremony will be far more intimate – and your photo opportunities far more spectacular – with fewer beach-goers around.
More Availability 
Wedding vendors can book up quickly during popular wedding months, but we tend to have more availability during the winter months. That means you have a better chance of booking all of your favorite wedding professionals for your wedding day. During peak wedding season you may have to forego your top choice photographer, florist, officiant, or baker – unless you book far enough in advance.
The Weather
In Wilmington, Carolina Beach, and Wrightsville Beach, summer's heat and high humidity can be a bit unbearable for some. Regarding your special day, it can wreck havoc on a bride's hair and makeup, leave a groom and guests squirming with sweat, and have your attendants wanting to take their clothes off (hold on, is this a Nelly video?!) Trust me, less humidity is a true winter wedding perk.
The Wedding Photos
With softer natural lighting during the winter months, your wedding photos will thank you. You won't be squinting nearly as much as you would when the skies are brighter, and for longer periods of time – like they are in the summer. Plus sunset is earlier in the winter – so take advantage of the "golden hour" sooner for those stunning post ceremony photos.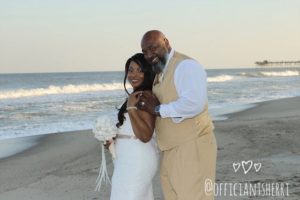 Better Accommodation Rates
You and your wedding guests can take advantage of off-season travel and vacation rental rates, with a winter wedding. From beach bungalows and oceanfront manors to Wilmington Riverwalk flats and suites, the selection and prices are far more favorable during the winter versus peak travel and tourism season.
It's Different
You won't get lost in the wedding season crowd, with winter nuptials. During busier wedding months guests – and engaged couples – are likely contending with hectic schedules and multiple wedding invites – that's where wedding fatigue can set in. A January, February or March wedding not only stands out from the celebration pack, it will  allow your guests to focus on you and the commitment you're making. Plus, there's more decor options, which is good news no matter your budget. From creating a warm and cozy vibe to a rustic beach chic feel, anything goes with a winter wedding in North Carolina's Cape Fear Region.
Whether you choose Carolina Beach or Wrightsville Beach for your beach wedding, both offer beautiful views and naturally stunning backdrops for your ceremony. I also officiate weddings at all nearby Brunswick County beaches, including Caswell Beach, Holden Beach, and Ocean Isle Beach. More beautiful North Carolina beaches are located north of Wilmington, in neighboring Pender County. Among them, you'll find one of my favorite beaches for wedding ceremonies and elopements, Topsail Beach.
Contact Officiant Sherri at 910-431-3428 or officiantsherri@gmail.com to start planning your winter wedding today. 
© 2021 Sherri Crawford